Compassionate Fox Cities

LifePath is pleased to be one of the founding partners of
Compassionate Fox Cities,
offering special events and resources to the people of northeast Wisconsin to encourage compassionate perspectives and action in daily life.
Compassionate Fox Cities builds on Appleton, Wisconsin's affirmation of
The Charter for Compassion
and its designation as a
Compassionate City
on May 17, 2011, on the amazing experience of the
Appleton Compassion Project
(involving 10,436 Appleton area students, the Appleton Area School District and the Appleton Education Foundation, the Trout Museum of Art, Lawrence University, Appleton parochial schools, "healthy mind" researcher Dr. Richard Davidson, and the Dalai Lama), on the 2000 people who attended the
Appleton Compassion Project Live!
performance at the Fox Cities Performing Arts Center, on the more than 900 people who attended just three showings of
The Happy Movie
in the Appleton area early in 2012, and on the
workshops and retreats
on compassion and compassionate self-care that LifePath has held in the last year.
Here's Dr. Richard Davidson and the Dalai Lama discussing the Appleton Compassion Project.
---
The goal of Compassionate Fox Cities is to extend this initiative into the daily lives of the approximately 360,000 people in the Fox Cities in Northeast Wisconsin. We will do this by developing and offering practical resources, information and experiences around compassion and genuine happiness.
Compassionate Fox Cities is committed to reach out to individuals, community leaders and groups to further the conversation about how we can be genuinely happy and compassionate. We will also engage with libraries, schools, health organizations, colleges and universities, churches, businesses, community funders, not-for-profit organizations, and neighboring communities to create and grow a regional network in which we can offer compassion-focused educational experiences.
We also encourage neighboring communities to proclaim themselves as Compassionate Cities or Communities, and encourage individuals to read and sign the
Charter for Compassion.
Compassionate Fox Cities Projects

Project 1. Even More Happy!
Over the course of the next 12 months, we will screen The Happy Movie at six or more additional libraries in the area and lead discussions following the movie. This award-winning documentary movie provides engaging, real-life examples of how people think about and address issues central to happiness and compassion. It is a key part of our outreach into neighboring Fox Cities communities. Enjoy the movie trailer - and if you'd like to host a showing for your group, let us know! You can reach Compassionate Fox Cities by emailing
LifePath
or calling 920-996-0887. The next three community showings are:
Thursday, September 6
6:30 p.m.
Kimberly Public Library
515 W. Kimberly Ave.
Kimberly

Thursday, October 11
6:00 p.m.
Appleton Public Library
225 N. Oneida St.
Appleton

Thursday, November 8
6:30 p.m.
Neenah Public Library
240 E. Wisconsin Ave.
Neenah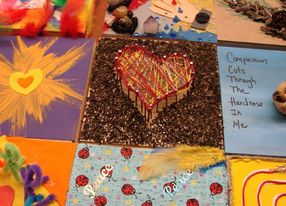 Project 2: The Compassionate Fox Cities Symposium.
On Saturday, October 13, 2012, we will involve the community in a Compassionate Fox Cities Symposium at the Thompson Community Center in Appleton. The Symposium will include: 1) keynote speakers from the community; 2) experiential and educational sessions on topics such as compassionate listening, loving-kindness meditation, and self-compassion; 3) focus groups to develop ideas and specific plans for programs promoting compassion and happiness for individuals and in the community; and 4) development of a Fox Cities Community Compassion and Happiness Culture Book. We will make copies of the book available physically and in electronic formats to individuals and organizations, and through the Appleton Public Library.
Project 3:
A "Compassionate Community Read."
We will conduct a "Compassionate Community Read" of a significant book about compassion and happiness such as
The Emotional Life of Your Brain
by Richard Davidson or
Real Happiness
by Sharon Salzberg. This project will be based on the highly successful model of the
"Fox Cities Reads"
community reading program organized by area libraries that has successfully engaged our community with inspiring books and their authors for the last six years.
---
Who We Are (so far!)

Compassionate Fox Cities consists of Jeanine Knapp (One Sand Grain Family Consulting LLC), Terry Dawson (formerly with the Appleton Public Library), Elizabeth Eisen (Appleton Public Library), Albert Bellg (LifePath LLC), Judy Owen (Appleton Area School District), and Cookie Fielkow (Affinity Medical Group).

Our friends include Jeanne Loenhis (Songs for Your Spirit) and Erin Buenzli (Lawrence University). We welcome additional participants and support!