Everyday Compassion Retreat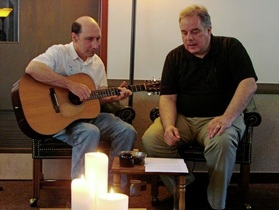 On June 3-4, 2011, thirteen participants joined together at beautiful Monte Alverno Retreat Center in Appleton for our first Everyday Compassion retreat. We went through a process to discover the personal difficulties we face in being compassionate in daily life, meditated with live music, created compassion tiles to express what compassion means to us, and let ourselves be challenged to let go of our comfortable but distracting social obligations during a two-hour period of silence.

It was a powerful time for insight and new learning. Being compassionate challenges us to change our lives and grow, and we all found something strong and new within us that we can share with the world.

---
A few weeks after the retreat, we had a gathering for retreat participants. The focus of our discussion was on the process people had been going through since the retreat to bring a more compassionate perspective into their lives. Many of us had been challenged by the difficulties of being compassionate to the people in our lives we feel obligated to. As one person said: "Compassion and guilt can't exist in the same place. We have to set aside our guilt to be truly compassionate."

We also found it difficult to be compassionate to ourselves; many of us have been in training for years to care for others and ignore what we need. We decided to practice setting aside the various identities we're attached to (parent, spouse, employee, caregiver, and so on) that sometimes keep us from experiencing other people as they are so that we can respond in a more genuine and compassionate way to ourselves and those around us.